Response Dials
When Technology Is Not an Option
First of all, response dials are a great resource to use when having students to respond to questions.  These dials come with a poster that illustrates a color code key.  The key illustrates what color represents A, B, C, D, or True, False responses.  I have used these dials for several years.  Students are always more engaged into answering questions with the dials than just a dry erase board or card.  You can find them in many of the educational supply books.  However, I purchased mine on Amazon.  At the time of my purchase this was the best price for them.  You get a total of 10 dials in a box.  I only have one set.  Therefore, I pair my students up and ask them to take turns moving the dial.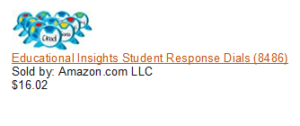 Video on Response Dials
I have included a video to provide more details about the response dials.  These response dials require students to turn a knob on the back.  The front cover of the response dial is dry erase.  This provides you with the ability to write individual or team names on the front.  The front erases easily for quick clean up.  The response dials include a question mark option.  I use this option on the response dials in a variety of ways.  One way, I have students to set the question mark icon to represent that they are waiting for a question.  During specific activities, I have students to use the question mark option to communicate that they have a question.  
Resources
Are you looking for all engaging ideas to implement into your classroom?  Check out my post on Not Popsicle Sticks https://mastermindcrafter.com/not-popsicle-sticks/.  This post gives you information on how to randomly call on students without using popsicle sticks.  Just in case, you are looking for an activity to reinforce the skill of Author's Purpose, here is a link to an engaging option https://www.teacherspayteachers.com/Product/Authors-Purpose-Pieathlon-3381701.